| | |
| --- | --- |
| Owned by Character | N/A |
| Owned by Player | Mods |
| Accessibility | Public Building |
| Damage Permissions | Have at it! |
| Current Residents | (Employee) Mayland Long |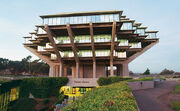 The Taxon Library is a multi-story structure with an extensive selection of media. There are nearly eight million items in circulation, the largest being books of course, but with various movies, music, and other documents available for check-out as well.
The Library is set atop a hill, and from the top floor it commands a good view of the surrounding areas and landmarks. The entrance to the walkway is cut into the hill, and at least two of the library's stories are actually underground, within the hill.
At night the Library looks sort of like a spaceship.
Currently, all Library staff are Extras except for Mayland Long, who has found himself in a quasi-Head Librarian position by default, as the only staffer to possess independent thought. Most days of the week he can be found at the information desk which is the first thing visitors will see upon entering the Library.
The Library hosts a weekly art installation, regardless of whether anybody actually attends it or not, and eavesdroppers at the Library will see such stereotypical daily activities as a reading group for a number of Extra children-- but the story book being read is always the same one, and usually the same page, read over and over again by an Extra.
Books or other media are checked out via one's bracelet-- no card required, but a one credit per day per item late fee is automatically deducted from the character's credit balance if they do not return items by their due date.